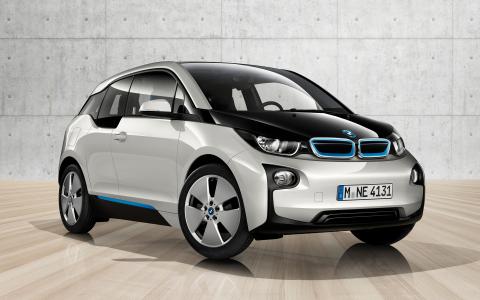 It's not as beautiful as the Tesla Model S, but it also doesn't need a Supercharger network to prevent Range Anxiety.  The new BMW i3 is an electric vehicle with a gasoline "range extender" option. 
From the BMW USA i3 page:
"The BMW i3 with Range Extender takes you further, allowing you to breathe a little easier on those longer road trips. This model, with a two-cylinder combustion engine, generates electricity that maintains the charge of the lithium-ion battery at a constant level as soon as it dips below a certain value.
The BMW i3 with Range Extender doubles your electric driving range to eliminate range concerns."
Further explanation from Green Car Reports:
"The range-extended option marks out the i3 as a competitor for Chevrolet's Volt, but unlike GM's product, the i3 'REx' will require you to make a few compromises on range and performance.
That's because the 650cc maxi scooter-sourced, twin-cylinder gasoline range extender (quite a mouthful, so let's hope you don't have to explain it to people too often) is really a last resort, rather than a genuine aid to longer-distance driving.
BMW seems to have admitted as much by allowing drivers a free loaner whenever they need to tackle a longer distance, but the clues are in the i3 range-extended model's specification too."
Would you get this, or just wait and see if BMW will release the i8!
In a later post, we'll look at how the i3 compares to the Volt from a range and cost perspective.
Other Links:
MIT Technology Review: Why BMW's i3 Electric Car is really a plug-in hybrid
enjoyed our post? let others know: